Are you planning a local move but unsure if hiring professional movers is worth the effort and cost? There are many reasons why using a moving company can be an invaluable asset. Not only will they ensure your belongings get moved safely, but also that all of your items arrive at their new destination in the same condition as before. Additionally, hiring experienced movers can help save you time and energy during this stressful time. In this blog post, we'll explore some of those benefits and explain why investing in quality moving services could be an attractive decision regarding relocations within the same city or town.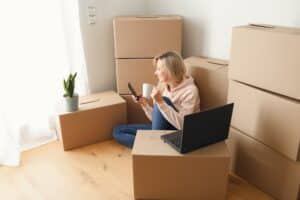 Local moves usually refer to the transportation of household goods from point A to point B within a relatively short geographic area. This type of relocation often involves going to the new home in a vehicle, such as a moving truck, and transferring items without having to cross state lines or use air transport. When done by professionals, local moves may include packing supplies, helping with larger items like furniture, and even disposing of unwanted items. Since local moves are typically shorter in nature, they can often be completed more efficiently than long-distance relocations. That's why hiring professional movers for this type of job may be beneficial since they can provide experience and expertise—ensuring that your possessions arrive safely and sound at their final destination.
Potential Problems During a Local Move
Moving can be stressful, even when it's just a local move. The entire process can take weeks of strenuous work, from sorting and discarding old belongings to physically packing, loading, and transporting your items. On top of that, added risks include the potential for damaged goods due to improper handling or inaccurate inventory checks, not to mention costs associated with renting equipment like moving trucks and the actual moving costs. To lessen stress and make sure things go as smoothly as possible, it's important to plan ahead and get help from local professionals who specialize in facilitating an efficient and safe transition.
Reasons to Use a Moving Company For a Local Move
Moving to a new home is an exciting prospect, but it can be a difficult and strenuous process. Many people would benefit from using the services of a professional moving company for their local move to save time and effort. Moving companies offer several advantages over tackling the move on your own. Additionally, they often provide insurance coverage against damage done while handling valuable belongings. Taking advantage of these helpful services makes a local move much easier – not only will your things arrive safely at their destination, but also you can enjoy peace of mind with the knowledge that everything is taken care of.
Many moving companies offer packing services to help make your move easier. They can pack your belongings for you and even provide boxes and other packing materials. This can be a great way to save time and energy during a local move, especially if you have a lot of things to pack.
Moving companies can also load and unload your belongings for you. This can be a huge help during a local move if you don't have anyone to help you with the heavy lifting.
Moving companies have trucks that are specifically designed for moving household items. They also have the experience and expertise to safely transport your belongings to complete your local move.
Many moving companies offer storage services if you need somewhere to store your belongings before or after your move. This can be a great option if you're downsizing or need to declutter before a local move.
Moving companies typically offer insurance in case any of your belongings are damaged during the local move. You would not have this if you were to move.
Moving companies have years of experience in helping people move their belongings. They know how to pack properly and transport items so that they arrive at your new home safe and sound.
Moving companies are very efficient in their work. They can usually get the job done much quicker than if you were to do it yourself.
Save Money On a Truck Rental
If you were to move by yourself, you would need to rent a truck, which can be quite expensive. You can save this local moving expense by using a moving company.
Moving heavy furniture and boxes can be very dangerous and lead to injuries such as back strains or hernias. By using a moving company, you can avoid these risks altogether.
By enlisting the help of a professional moving company, organizing your local move will become exponentially easier with less stress. The movers can take care of all the heavy lifting, ensuring that all your belongings get to their destination safely and sound.
Whether you're moving down the street or across town, hiring a professional moving company can make your life a lot easier. At Regency Moving & Storage, we have the experience and expertise to handle all kinds of local moves, big and small. We can provide all the necessary supplies, pack up your belongings carefully and efficiently, load everything onto our truck, transport it to your new home or office, and unload and unpack everything just as quickly. And because we're a full-service moving company, we can even help you with storage if needed. Contact us today to get started on planning your next local move.