Northern Virginia Storage Services
During a move you may find yourself needing to store additional items or furniture that you don't have space for in your new home. This is when a company that offers both moving and storage services comes in handy. At Regency Moving & Storage, we offer secure and affordable Northern Virginia storage solutions to accommodate all of your needs. Our facilities are climate-controlled and monitored 24/7 to ensure the safety and protection of your belongings. With flexible rental options and competitive pricing, we make it easy to store your items for as long as necessary.
What Sets Our Northern Virginia Storage Facilities Apart?
While there are many options for Northern Virginia storage, we pride ourselves on our affordable pricing, as well as our clean, secure, and climate-controlled warehouse facilities. Our furniture wrapping and protection services are done on-site, and we offer concise inventory management to ensure that you can find your belongings easily. Additionally, we offer a free estimate to all of our customers to help them make informed decisions about their storage needs. Here are just a few of the other things that sets our Northern Virginia Storage facilities apart!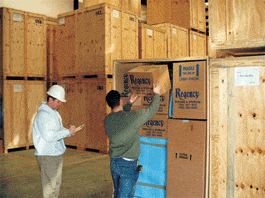 If you are unsure about the amount of storage space you need, our team of experts can help you determine the appropriate size for your belongings. We offer both short and long term storage options, so you can store your items for as long as necessary. Our facilities are equipped with state-of-the-art security systems, including video surveillance to ensure that your items are always safe and secure.
This process is the result of over 25 years of experience in the moving and storage industry, and is designed to ensure the safety and protection of your belongings. The process consists of four steps:
The first step of our Northern Virginia storage services is taking inventory of the contents of your household to identify each item by description and condition. This ensures accountability for your goods and offers peace of mind that you will receive everything in the same condition it was in when it was originally moved.
Second, all your furniture is pad-wrap protected. We use over-sized warehouse protective pads and carefully hand-wrap individual pieces to maintain the cleanliness and condition of your furniture. So when you choose our Northern Virginia storage facilities, you can trust that your belongings are handled with care!
The third step in preparing your furniture for storage is the loading of your goods into containers, referred to as "crates". Palletized storage is the most sensible way to store your goods. The crates are approximately 250 square feet in size and are cleaned and sanitized after every usage.
The last step of our Northern Virginia storage services involves, our warehouse staff carefully forklifting your containers into our palletized inventory. Containers are clearly marked, identified, and registered with our administrative staff in files created specifically for you. We bill you for storage on a monthly basis, and any charges are prorated daily for your warehouse occupancy. There are no minimum charges. If you anticipate being in storage for 1 year or longer, ask about our prepayment discounts.
Preparing Your Belongings for Our Northern Virginia Storage Facilities
The first and most important thing for you to do before preparing your items for a storage facility is to do your homework. Not all storage facilities are created equal, and you may have some things that require special care. You want to ensure that your items are being stored in a warehouse or facility that meets your unique needs.
Once you have decided on a storage facility is when the real work starts, here are some things you should do before placing your belongings in storage:
Items that are going to be stored for a long period of time should be properly cleaned and disinfected before storage. This will help prevent any unwanted odors or pests from entering your storage unit, which can lead to damage in the future. Take the time to wipe down all surfaces, vacuum any upholstery, including couches and chairs, as well as any area rugs and carpets.
If you are expecting to be using this storage facility for long-term storage it is extremely important that you use plastic bins or other air tight containers to hold your belongings. Insects such as silverfish, roaches, and termites like to feed on cardboard boxes. So while using cardboard for short-term storage is usually okay, plastic containers are best for long term storage needs because insects don't like to eat plastic!
These plastic bins are also less likely to be exposed to potential water damage because of their tight seal. Our team at Regency suggests protecting your belongings in a storage facility by packing them in these bins!
Take Apart Large Furniture
If you have furniture, such as tables and chairs that must be dismantled in order to fit into storage containers or storage units then it is important that you take them apart before hand. Doing this will help to maximize on storage space and can even help your belongings dry out faster in the event of water damage. Taking apart these larger items before bringing them to the storage facility will help you safe time too!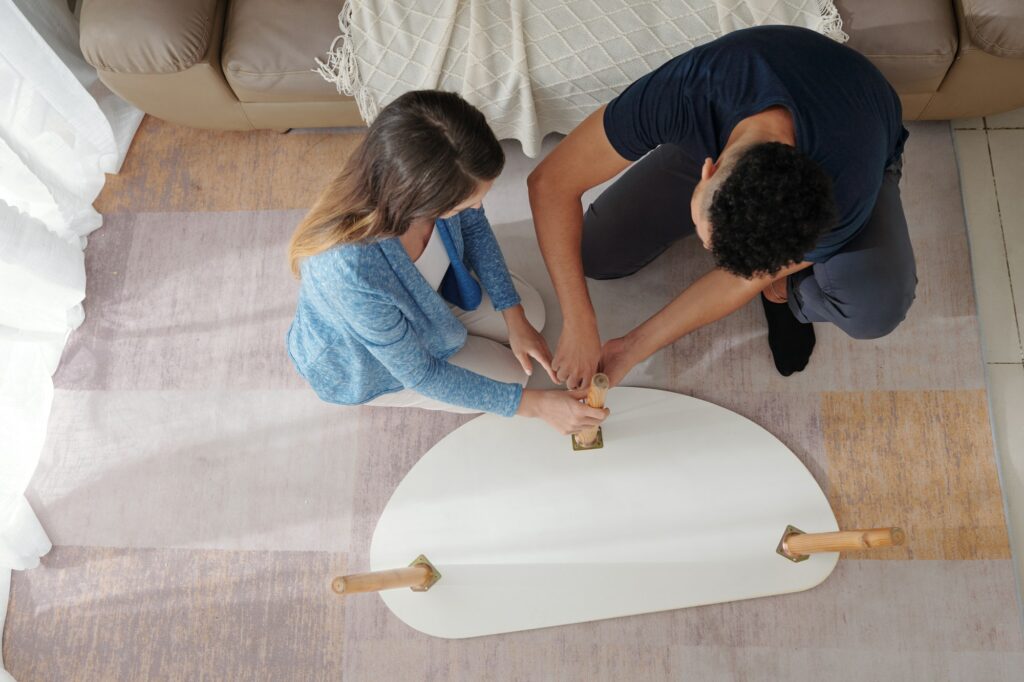 Dust, mildew, and even mold can develop over time if your items are not properly packed up and taken care of. We already mentioned that plastic storage bins will help protect your belongings but there are a few other important steps that you need to take too. You should cover your large pieces of furniture should be covered with a sheet or blanket in order to keep dust and dirt off of the fabric. Wrap any mattresses up in protective plastic or storage. If you are storing appliances make sure to leave the doors slightly open in order to prevent moisture from building up.
When you use our storage, facility our Regency Moving and Storage team will create an inventory list of all of the items you are storing. However, you should create a list too! It can be easy to loose track of what you have when it's not readily available. Creating this inventory list is handy when it comes to locating items after a move, but also a great reference in the event of damage or theft. You should take photos of your items before they enter storage and keep these pictures with the inventory list. If for some reason you have to contact you insurance company or police department in the event of a break in, you will have an organized list of everything that you've stored.
Check with Your Insurance
Before fully moving your belongings into a storage facility you should call your insurance company to find out if your homeowner's or renter's insurance policy will cover items in storage. Just like your home is susceptible to theft, water damage, or fire damage, storage facilities are too. If your current insurance place doesn't cover items in a storage facility see how much it would be to add it to your policy!
Understand the Restrictions for the Storage Facility
Understanding any restrictions that a storage facility has in place to is very important because these restrictions are in place to protect you, your belongings, and the other people storing their items in the facility. This list of restrictions typically consists of items that have been deemed dangerous to store in a facility. Some of these items include cleaning chemicals, gasoline, fertilizer, propane tanks, fireworks, and paint.
Get Help Moving and Storing Your Belongings 
Once your items are prepped and ready for storage you may need some help getting them to the facility. You may opt for using your own vehicles with the help of friends, or rent a truck to help make the transition smoother. One of the unique traits that our company at Regency Moving and Storage is that we are a company that can help you with both! We can help you pack up your home and then transport the belongings you want to store to our storage facility!
Northern Virginia Storage Options with Regency
If you're looking for secure and affordable storage solutions in Northern Virginia, look no further than Regency Moving & Storage. With our climate-controlled facilities and flexible rental options, we make it easy to store your items for as long as necessary. Contact us today to learn more about our Northern Virginia storage options and to receive a free estimate.
Northern Virginia Storage You Can Trust
Contact Regency Moving and Storage to learn more about our services