An office move can be a big undertaking for any business. There are a lot of details to think about and coordinate, not to mention the logistics of actually getting everyone and everything moved. But with a little planning and preparation, your team can make the transition smoothly and efficiently. Here are a few things to keep in mind as you start preparing for your office move.
Are you stuck in a dull, drab office space? Is your current location not convenient for clients or employees? It may be time to consider moving to a new office. A fresh and modern atmosphere can boost morale and productivity among staff, while a more central location can improve accessibility for both clients and employees. In addition, moving to a newer building could also mean updated amenities such as better wifi and technology. A change of scenery may also provide new opportunities for networking and collaboration. If you're ready for a change, don't hesitate to start looking into potential new offices that meet your needs and preferences. Moving can seem like a daunting task, but it could be exactly what your business needs for growth and success.
An office move can be incredibly hectic, but proper planning and organization can make the process go much more smoothly. With careful preparation, an office move will go off without a hitch and employees can get back to work in no time. Here are some tips to help you and your team prepare!
Communicate Early and Often
As soon as you know that an office move is on the horizon, start communicating with your team. Let them know what the timeline looks like, what the budget is, and what the new office space will be like. The more they know, the less anxious they'll be about the whole process.
Get Everyone Involved in the Planning
Utilize your team's strengths and let them take ownership of different aspects of the move. This will not only help with buy-in, but it will also help them feel like they're a part of the office move.
Be Flexible with Deadlines
Trying to stick to an inflexible timeline will only add unnecessary stress to the situation. Build in some buffer time so that if things do go off track, it's not the end of the world.
Have a Plan for down Time
When you're actually in the process of moving, there will inevitably be some down time. Have some activities lined up so that your team doesn't get too antsy during this time.
Make Sure Everyone Has a Buddy
An office move can be overwhelming, especially if it's someone's first time going through it. Assign each person a "buddy" who can help them acclimate to their new surroundings and answer any questions they may have along the way.
The stress of an office move generally will peak when it is time to actually move. All of your planning will be put into place and things actually start moving to the new office. In order to keep the moving day running as smoothly as possible – make sure tasks and roles are communicated clearly, boxes are properly labeled, and nothing is left behind. The best tip for a smooth office move is to hire a professional moving company.
Moving Alone Vs. Professional Moving Services
When it comes to an office move, many people think they can save money by tackling the job solo. While this may be true in some cases, the potential for damage to valuable personal belongings is a real concern. Professional movers have the experience and equipment necessary to ensure a safe and efficient relocation process. They are trained in proper lifting techniques and will have access to specialty items such as dollies and furniture pads. Additionally, many moving companies offer insurance options in case of damage or loss during transit. In comparison, attempting a DIY move may lead to injuries and costly repairs for damaged items. Ultimately, investing in professional movers can be more cost-effective in the long run, providing peace of mind that your possessions will arrive safely at their new destination.
How to Choose the Best Moving Team
When it comes to hiring a moving team, it's important to do your research and choose a company that will provide reliable service at a reasonable price. One way to start is by getting recommendations from friends or relatives who have had recent positive experiences with movers. It can also be helpful to read online reviews and check for any complaints filed with the Better Business Bureau. Once you have a few options in mind, make sure to inquire about insurance coverage and ask for an in-home estimate rather than just getting a quote over the phone. Finally, trust your gut: if something seems too good to be true or raises red flags, keep looking for a better fit. By taking the time to carefully choose your moving team, you can ensure that the transition into your new home will go smoothly.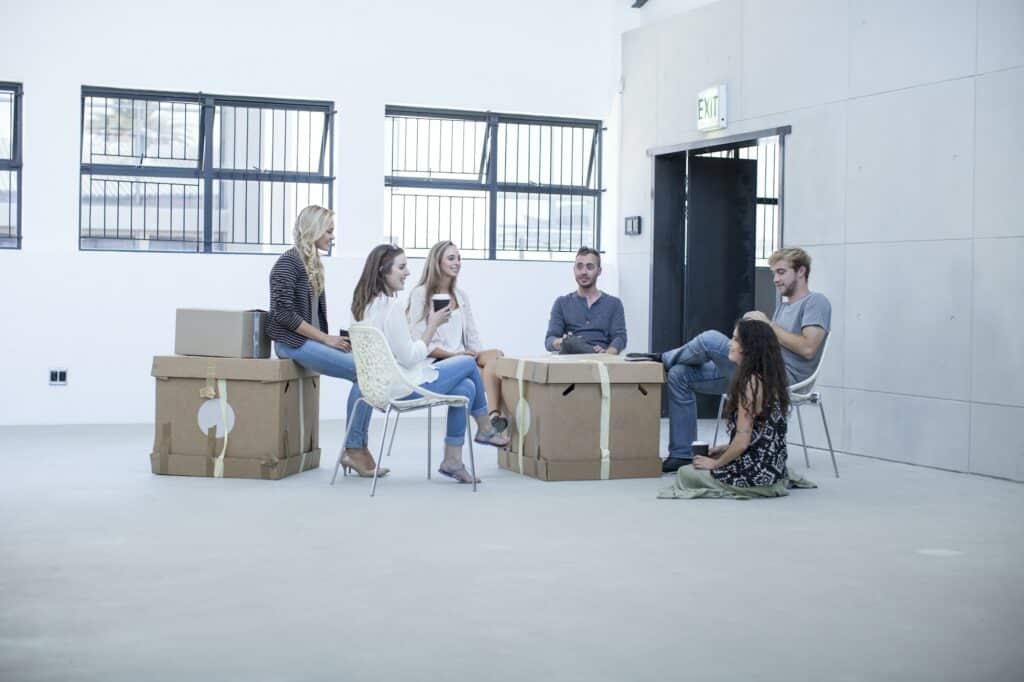 Preparing your team for an office move requires clear and consistent communication. By following these tips, you can help ensure a successful and smooth transition for everyone involved. If you have any questions or need assistance with your upcoming move, please don't hesitate to contact Regency Moving & Storage. We're here to help you every step of the way.