If you are a business owner in the process of relocating, you may wonder what the difference is between commercial and residential moving services. The answer is: quite a lot! Commercial moves are much more complex than residential moves and require different expertise. That's where our team at Regency Moving & Storage comes in.
Commercial Moving Services vs. Residential Moving Services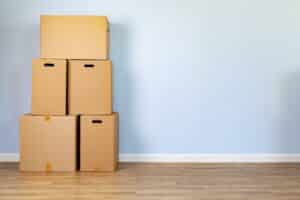 There is a big difference between residential and commercial moving services. When you are moving a business, it is a completely different story. You need professional movers with the experience and equipment to safely and efficiently handle commercial moves.
Chances are the process of moving into a home is one you are familiar with. It starts by finding a home, and then after many other logistical things, you need to get your things out of your old residence and into your new one.
You can do this by either choosing to pack and disassemble furniture yourself or hire a full-service moving company to do the job for you. Hiring professionals is always beneficial as they will ensure that all your belongings are securely loaded into the truck before relocation, so no one worries about it, along with unloading them at your new home. They can even unpack any boxes and even get rid of packing materials afterwards!
A huge difference between residential and commercial moving services is that residential moves can happen on short notice or with advanced planning. Most moving companies base their quotes on how many movers are needed and how many hours it takes. If you want a moving company to help with packing and unpacking, that is typically a separate cost. The biggest challenge that comes with residential moves is moving large, oversized items. However, professional movers have the experience and equipment to handle the job easily.
And while commercial moving services involve a lot of similar components and steps as residential, commercial moving services happen on a much larger scale. Commercial moves can range from small offices or storefronts all the way to large corporate offices and factory moves.
Because of the complexity of commercial moves, it is important to work with a team of professional movers with commercial relocation experience.
Why The Distinction between Residential and Commercial Moving Services?
Different types of moves require different techniques and strategies for successful relocations. Which is why it is important to understand the distinction between residential and commercial moving services.
Commercial Moves Require a Lot More Planning
When it comes to relocating your business, it is extremely important that you plan. You want to make sure to choose a time and day that will least impact day to day operations, and you always want to give your employees enough time to prepare for the upcoming move!
Your size and business type will determine how much manpower is needed. In some cases, commercial moves will require the use of forklifts, toe jacks, and hand trucks to move any machinery, furniture, and other large fittings .
In addition to the physical planning of move, other aspects need to be considered. You will also want to plan for communications and customer relations. Having a plan in place for how you will notify customers and keep them informed throughout the moving process is essential.
Commercial Moves Involve the Moving of Mass Electronic Equipment
Residential movers have experience with safely moving microwaves and TVs from one house to another. And commercial movers do the same thing for businesses.
However, commercial moves also involve the movement of mass electronic equipment and machinery such as copiers, computers, servers, and other office furniture. These pieces of equipment can be highly sensitive and require proper handling to avoid damage or malfunctions during the move. That is why it is so important to have a team of professional movers with experience with the specific needs of commercial moving.
Commercial Moves Involve the Moving of Sensitive Information
In addition to physically moving equipment, commercial moves also involve relocating sensitive information. To protect confidential documents and files, a system in place that allows for secure transferring of data is important. This can include paper files as well as electronic information. Professional movers can help securely transport these items from one location to the next.
In the United States, companies are legally obligated to protect their data at all times, particularly when relocating. To ensure a secure move of sensitive equipment and information, businesses should only hire movers who have passed background checks and been confirmed through trusted references. This vetting process is essential for any commercial mover to provide clients with peace of mind during relocation.
Requires a lot of Heavy Lifting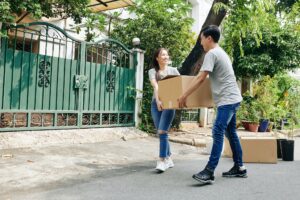 Another factor we touched on briefly before that helps distinguish residential and commercial moving services is the amount of heavy lifting required. Businesses often have large equipment, furniture, and other items that need to be moved from one location to another, and we aren't just talking about copiers. Most businesses must also move vending machines, desks, office fittings, and any manufacturing materials. Because of this, commercial moves require more manpower and specialized resources such as forklifts or toe jacks to ensure a successful relocation.
The bottom line is that commercial moving services involve much more planning and oversight than residential moves. From moving large equipment to protecting sensitive information, you will want to work with professional movers with experience in this type of relocation. With the right team by your side, your business can successfully transition to the new location.
Commercial Moving Services with Regency Moving & Storage
If you are looking for commercial moving services to help relocate your business, our Regency Moving & Storage team is here to help! We are experienced in all types of commercial moves, from small office relocations to large-scale corporate moves. Our team has the right tools and skills to ensure your business is moved safely and efficiently. We also have the experience necessary to protect sensitive information during a move. Contact us today to learn more about our commercial moving services and get a free quote.